MEMBERSHIP SPECIAL
GWTA is offering a membership special,
CLICK HERE FOR INFO
Download the membership form here
WELCOME TO CHAPTER "B"
OVERLAND PARK, KANSAS
Video from Ride 4 Kids 2012
The Gold Wing Touring Association (GWTA) welcomes all motorcycle enthusiasts, regardless of the brand of motorcycle. We are primarily, but not exclusively, Gold Wing riders.
Everyone is welcome regardless of what brand of motorcycle you ride.
Whether you're young or young at heart, ride new or old, everyone's welcome.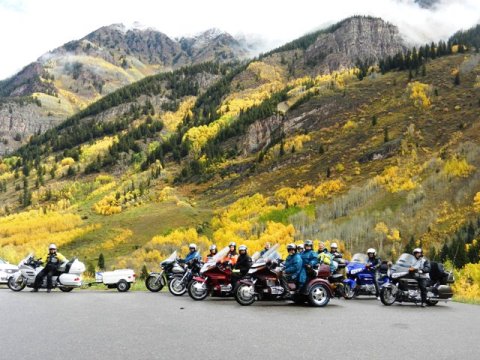 MONTHLY CLUB MEETINGS
MEETING LOCATION!
We meet the Second Monday of every month.
Meetings are held at Perkins Restaurant, on 87th street East of & I-35 in Lenexa. You are welcome to come to our meeting, see what we're all about.

There are many other activities planned each month, including trips and tours, rides to other chapters poker runs, charity rides, etc.

DINNER RIDES EVERY WEDNESDAY EVENING, April through September
Weekly dinner rides are held every Wednesday. Sometimes the destination is planned, other times it's a "mystery ride" to dinner. Meet at 6:30 pm in the Sears Outlet parking lot behind McD's & T-Bell at 87th and I-435 in Lenexa, Kansas.
Please use the "Email" link below to send comments or request info. Bill

If you would like to join our rides and activities emailing list, click this link. Add me to your list
Fall Color Ride 2012

Our 2012 Fall Color Ride took us to Maroon Bells National Recreation area outside Aspen Colorado.

On our ride that morning, we crossed Independence Pass, in a pretty heavy snow. It was a bit spooky.

Ride Safe, Ride Often

Bill




Our 2014Ride list is online

Click here to join us on